Judell, Leopold - I293
From 'City of Adelaide' History and Genealogy Site
Second Class Passenger ♂
Leopold Judell
25 Jul 1848 – 5 May 1927

Leopold Judell (1848-1827)

Nationality
Unknown
Born
25 Jul 1848


Altona, Schleswig-Holstein

Died
5 May 1927


Adelaide, South Australia

Genealogy Data
Person ID
I293
Marriage Family/Families
Judell Family - F127
Spouse
Rebecca Salom 
(1860 – 1931)
Nationality
Unknown
Married
25 Feb 1880
Palmer Place, North Adelaide

---

Children:
 
 

---

Voyage Data
Voyage to Adelaide in 1870
Personal role
Second Class Passenger
Name on list
Mr. Judell
Joined place
London
Left place
Adelaide
Leopold Jϋdell (b1848) was born in an area of Denmark that passed to Prussia, creating the entity of Schleswig-Holstein, in 1867. There was armed conflict in those parts of Europe where the changes were unwelcome. After renouncing his Prussian citizenship, and a few weeks before the outbreak of the Franco-Prussian War, 21 years old Leopold made his way to London where he boarded the City of Adelaide in May 1870 to join his brothers Hermann and Moritz Wolff already in South Australia.
Life in Europe
Leopold Jϋdell was born on 25 July 1848 in Altona, Schleswig-Holstein, the youngest son of a prominent local merchant, Wolff Jϋdell and his first wife Hannchen née Mendel.
The number of Jews permitted to live within the city of Hamburg was restricted, and a large community of Jews had developed in adjacent Altona, including the Jϋdell family which was of the Jewish Reform faith.
At this time several provinces of modern Germany were being united into a German Confederation with the help of aggressive Prussian occupation, and there was armed conflict in those parts of Europe where the changes were unwelcome. In 1867 control of Altona passed from Denmark to the Kingdom of Prussia, creating the entity of Schleswig-Holstein.
Such turmoil and, probably, additional strain imposed on them by increased cultural discrimination, prompted Leopold's generation of Jϋdells to emigrate from Altona. His brothers Hermann, Moritz Wolff, and Cesar also migrated to South Australia, and other family members scattered widely to Berlin, Hanover, Vienna, Budapest and Bath in Europe, and to San Francisco and Milwaukee in the USA.
After renouncing his Prussian citizenship, and a few weeks before the outbreak of the Franco-Prussian War, 21 years old Leopold made his way to London where he boarded the City of Adelaide in May 1870 to join his brothers Hermann and Moritz Wolff in South Australia. He had booked a second-class cabin for which he paid ₤19 sterling. The ship left Shadwell Basin in the River Thames on 24th May, called at Plymouth and reached Port Adelaide on 18th August after a voyage of nearly three months. Throughout the journey Leopold kept a diary of each day's events written in his native Germanic dialect. (Both his passenger ticket and his diary survive in the possession of his descendants.)
Leopold indicates in his diary that he was already fluent in the English language, and evidence of his writing showed that he wroteg in perfect English, including some lovely poetry. His beautiful hand-writing was always perfectly clear.
Life in Australia
After a short time with his brothers, Leopold worked for a branch of G & R Wills & Co, clothing merchandisers in Adelaide for two years. Like the other employees he enjoyed board and lodging on the firm's premises at the rear of the building.
Hermann Judell returned to Germany in 1873. Leopold felt ready to enter a business partnership with Adelaide merchant Alexander Kauffman, and he became a storekeeper in Truro. In August 1920, when he celebrated his fifty years in the colony by publishing his reminiscences in a booklet "Pioneering in the Back Blocks of South Australia", he mentioned fond memories of kangaroo hunts in pleasant company at Truro, and being lost on one of his horse-back trips to Blanchetown.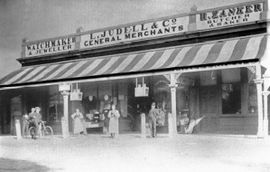 In 1877 Leopold moved to join another Jew in the partnership of Levine & Judell which conducted a very successful store at Jamestown, the thriving centre of a district newly-opened to settlers. On a visit to a little village of a few houses called Orroroo, Leopold saw its potential and bought a piece of land on which he opened a large store in 1878. All his goods had to be transported from the railway terminus at Burra by bullock teams, and the carriage of his first shipment cost ₤800!
Subsequently, after buying his brother Moritz Wolff out of his interests in Orroroo, he set up the Commercial Hotel, and owned the stone quarries from which many of the other new town buildings were constructed.
Having renounced his Prussian citizenship in 1870, Leopold became a naturalized British subject of South Australia in 1878. He maintained his traditional religious convictions, although they did not survive beyond the next generation.
Leopold Judell married Rebecca Salom (1860-1931) in Palmer Place, North Adelaide on 25 February 1880. Rebecca was the eldest daughter of the prominent, wealthy importer and auctioneer Maurice Salom MLC (1832-1928) and his wife Kate née Solomon (1837-1928). The Saloms and the Solomons were also Reform Jews, and Rebecca's bride price was 100 gold sovereigns paid in cash. Leopold and Rebecca produced six daughters and four sons (see below).
The Upper North district of South Australia was close to Goyder's Line which had defined the edge of the salt-bush country where unreliable rainfall made it unsuitable for agriculture. This created the distinction between cropping and pastoral country. Some early settlers there suffered very badly in drought years, and Leopold Judell fought hard to aid them. He extended credit rather than see them fail, and loaned money at reasonable interest rates against future crops. Although not a farmer himself, Leopold owned several farming properties there, and he was an active promoter of such innovations as using the drill, superphosphate, the header and silos.
Orroroo flourished in subsequent decades, and its merchant store-keeper Leopold Judell became a very prominent personality in the district. His large residence was the grandest home in the township. He became a Justice of the Peace in 1898, and at times was required to take his place on the Magistrates Bench. He served for some years on the Education Department Board of Advice for the local area schools. He was the leading agitator for an Orroroo Water Supply and irrigation system until it was approved and built by the State Government. He was also an inaugural member and subsequent Master of the town's Masonic Lodge.
Leopold was a strong supporter of the Federation of the Australian colonies, and advocated the abolition of the State Governments. Despite his keen interest in current affairs, he resisted consistent requests to become a politician at any level of government.
Leaving the management of the shops at Jamestown and Orroroo to his sons Lester and Elias, Leopold and his wife made a world tour for nine months in 1910, visiting Hamburg, England, Scotland, Ireland, Italy, Switzerland and America. On their return they lived at 16 Northgate St, Unley Park. Leopold continued to be involved in sundry business interests, and maintained an office in Adelaide. He died after a brief illness on 5th May 1927. Rebecca passed away in 1931.
The Children
Leopold and Rebecca Judell's ten children all started their education at the Orroroo Primary School, and many were inevitably drawn into the business.
Kate Mendel Judell (1881-1961), born at Orroroo, trained as a nurse at the Adelaide Children's Hospital, before marrying medical student Brandon Saunders (1875-1952). They lived at Henley Beach where they had five children Margaret, Ivan, Sadie, Barbara and Alan. Brandon did not acquire a profession or a trade, and Kate kept the household functioning. In the next generation she became the focus of the family.
Olive Rachel Judell (1882-1943) was born in North Adelaide. She was quiet, kindly and unassertive, never married and lived with her sister Doris in a former guest-house at Glenelg..
Lester Maurice Wolff Judell (1883-1976), born in North Adelaide, became a boarder at Prince Alfred College. He subsequently obtained his B Sc at the University of Adelaide, and originally became a mining engineer with the Tasmanian Copper Company. Then he married Elsie Evelyn Winifred Skippen (1887-1982) and became manager of the Judell's store at Jamestown. When this was sold to Eudunda Farmers, Lester became the owner and publisher of the local newspaper. He and Elsie subsequently moved to live in Millswood. They had five children Lesley, Vivienne, Claire, Patricia and Maurice.
Their son Maurice flew Sunderland flying boats in the RAAF during World War II until he was shot down and lost in the Bay of Biscay in 1942. He was 24 years old and never saw his daughter.
Bertha Florence Judell (1885-1937), born in North Adelaide, married a farmer George Haldane Ragless (1883-1956), who developed severe arthritis and could not work. They had four children Donald, Peter, Betsy and Ross who, with their stricken father, had to be cared for by Bertha's unmarried sisters following her early death.
Doris Hannchen Judell (1886-1949) was born in North Adelaide. She attended a business college and took a job with a tyre company on North Terrace, Adelaide. She loved parties and noisy gatherings, but never married and lived with her sister Olive at Glenelg. When Olive died, she moved in with her single-parent sister Vera at Glenelg and helped her with her two boys.
Eric Hermann Judell (1888-1972) was born in North Adelaide. In trying economic times he had to leave school at the age of 12 or 13 to work for the firm, doing odd jobs that included unloading heavy stores. He married local girl Agnes Minna Yeates (1889-1976) in Orroroo, and they had one child David. At the time of his brother Elias' death at Gallipoli, Eric applied to join the AIF, but he was declared eligible only for service within Australia - if there were any vacancies. Eric subsequently moved to Adelaide, and established Judell Fashions in Rundle Street (see below)
Elias Max Judell (1890-1915), who was born at Orroroo, attended Roseworthy Agricultural College at one stage. He managed a Judell's branch store at Laura or Spalding from an early age, and he joined the militia. In September 1914 he enlisted in the AIF, and was appointed Regimental Quarter Master Sergeant in the Ninth Light Horse Regiment. His unit sailed for Alexandria in February 1915, and he served in the Gallipoli campaign from early May until August when he was killed by a shell (presumably from a German cruiser) on Walker's Ridge and buried on Gallipoli.
Elsa Julie Judell (1891-1959) was born at Orroroo. She married Malcolm McRae (1891-1951) who served on the Western Front as a machine gunner during World War 1, and returned to join the South Australian civil service. They had one child Janet.
Vera Estelle Augusta Judell (1894-1976) attended Muirden's Business College and became her father's personal secretary. Leopold was now living in Unley Park and had a city office in Verco Buildings, Stephens Place. Vera married Raymond Jack Last (1903-1993) who became a medical practitioner in Booleroo Centre. They had two children before the marriage failed. Vera involved herself in community service, and took a job with Red Cross Transport to support herself and her two sons. She was justifiably proud to see both John and Peter graduate in medicine from the University of Adelaide. Dr Peter M Last also enjoyed being a writer and historian, and this article has been drawn from his exhaustive work on the Judell family history.
Cedric Leopold Judell (1895-1987) also became a boarder at Prince Alfred College. He joined the Army in March 1915 and served in Gallipoli, France and England. Like their father, Leopold's children were all short and stocky, and at 5 ft 3½ in(161 cm) Cedric was said to have been the shortest man in the AIF. He married English girl Doris Evelyn Rider in London in August 1919, and they had two children Joan and Trevor. Cedric went back to the Orroroo store and eventually bought it. In later years Cedric and Doris gave long service to the Royal Adelaide Hospital as volunteers.
Judells Fashions
Eric was the son who had worked most closely with his father at an early age, and he developed a strong business sense. In 1920 he followed Leopold in leaving Orroroo and moving to Adelaide.
Eric established the firm of Judells Fashions in a rented building at 76 Rundle Street in the heart of Adelaide's business district. Catering for the mature woman, this clothing and millinery enterprise became very successful.
Subsequently Eric's son David joined him in the business and they developed it further. Judells Fashions was moved to another Rundle Street address, then shifted to a third site there. Eric and David were able to purchase in turn two of the buildings they were renting, and to sell each at a good profit.
By 1982 the "rag trade" had been undergoing radical changes for some years, and David decided to sell the firm and its name.
The new owner expanded the business into a dozen Judells branches across the metropolitan area and beyond, until the Australian clothing trade became even more difficult. The chain was then reduced by half to specialize in up-market "boutique" fashions in the more affluent suburbs.
The business name Judells remains as a public legacy to the enterprise of Leopold Judell.
Sources
This article was drawn from the chapter "Judell Family Part 1" written by Dr Peter M Last, a grandson of Leopold, within the book "Of Sturdy Stock - A Family History" by Judith Judell (Peacock Publications, 2008). Judith is the wife of another grandson, David Judell. We are grateful for their permission to publish these extracts, and three of the photographs.
References